I woke up this morning with a serious case of blogger's block. I'm talking major — I nearly threw in the towel by posting a gratuitous amount of unflattering dog photos, but I think we can all agree this blog has far too many of those already.
Thankfully, the blog gods have blessed me with some last-minute inspiration. Holly over at Where We Can Live Like Jack And Sally is hosting a link-up! And the funniest people get gift cards to Starbies! Here's hoping these "finish the sentence" prompts will get my creative juices flowing…and land me a couple of free #PSLs in the process.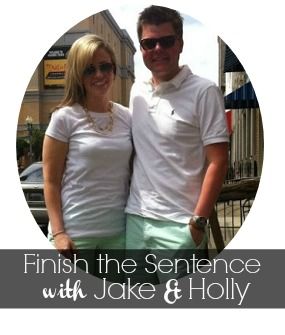 My happy place… is Whole Foods. I freaking love that place.
There are seventeen flavors of raw, organic kombucha! Hipster dads with ironic facial hair! Cute little chalkboards at every turn! Deodorant that costs more than my shoes but claims it won't give me cancer!
But most important? There are cheese samples. Mountains and mountains of glorious cheese samples. (And yes…I'm totally the girl who goes back for seconds fourths.)
Whatever happened to… Australian Toaster Biscuits?
Those things were my jam, you guys! One day I got the brilliant idea to order some via Amazon, only to learn they had been forever discontinued. WTF, Oroweat?!
So what if I…. lied about my weight on my driver's license. I can pass for 125 pounds…right?
Right??
E! needs a reality show about… Me!!! It would be just like Keeping up with the Kardashians only with less hair and more cellulite!
(To be clear, the 'less hair' thing was in reference to hair on my head. Those girls are Armenian…they've got me schooled in the body hair department.)
My go-to fast food meal is… a McDonald's vanilla ice cream cone. And yes…ice cream can be a meal. (Same goes for cheese samples.)
You might not know that I… was the fattest baby born in the state of Alaska during July 1984. Nine pounds, ten ounces, yo!
And yes…I still brag about this.
Frequently.
The hottest quarterback in the NFL is… no clue. The only "sports" I follow are Us Weekly's 'Who Wore it Better' section, and Toddlers and Tiaras.
If I could… have one supernatural power, it would be the ability to magically undo one regrettable action at the end of each day. Yesterday's take back? Mistakenly wearing see-through pants to CrossFit on squats day. Whoopsie!
My personality is awesome because… I'm an open book. Got ten minutes to spare so I can detail every horrible aspect of my most recent UTI? Have a seat!
(On second thought…maybe that makes my personality less awesome…?)
Twerking is…. no longer cool now that my dad knows what it means. (Here's hoping I never have to see him actually attempt it.)
I think it's super gross when… you accidentally sit in a stranger's puke in a Las Vegas taxi cab.
Someone needs to tell Miley Cyrus…. to get together with Amanda Bynes and film a reality show fueled by pleather bikinis and daddy issues. Now that's what E! needs to put on the air…
********
Let me guess…you also are completely devastated at the discontinuation of Australian Toaster Biscuits and are dying to blog about it? Head on over to Holly's blog and join the link up! Let's use this as a platform to send Orowheat a message. (Or, you know…just grow our blogs or whatever.)
Liked this? Then try these: